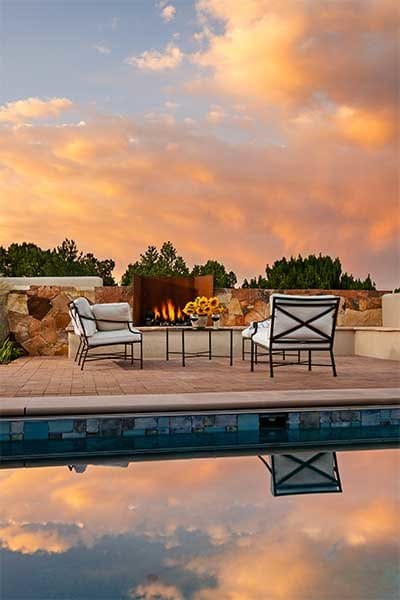 The owners of this self-contained haven and Tierra Concepts have a long history together, having collaborated first on a remodel of this magnificent home and then on the creation of an addition to serve as a destination not only for guests, but for the owners themselves.
In this sheltered oasis, one can find refuge from the busy world and luxuriate in a good book, scrumptious meal, refreshing swim, or simply lounge about under gorgeous skies day and night. The sounds of running water from a fountain and waterfall center the intimate space along with the lap pool, around which the space opens.
In planning, Tierra Concepts made certain to preserve the show-stopping views of the Sangre de Cristo Mountains for the main house and addition, while positioning the buildings to ensure that road noise and traffic would not intrude on the high-desert solitude found under our magnificent Santa Fe skies.